Good quality furniture or a piece that has an impeccable provenance will always yield a high price at auction. In recent years there have been a number of desks, cabinets and tables that have commanded eye-watering prices from bidders and here are some of the most expensive to ever go under the hammer.
The Badminton Cabinet – $36.7M
This astoundingly ornate cabinet was sold by the descendants of the 3rd Duke of Beaufort for an incredible $36.7 million and currently sits in the Liechtenstein Museum. The cabinet was sold in 2004 and was constructed in Florence. Inlayed with precious stones, this is more a work of art than a functional piece of furniture.
The Dragon's Chair – $27.8M
Showing that provenance and craftsmanship will always be popular, the Dragon's Chair made spectators gasp at the price it garnered at a Christie's auction.
This early 20th century chair was once the property of Yves St Laurent and when the iconic piece of furniture was auctioned in 2009, it fetched a stunning £19.million. Art deco designer, Eileen Gray is responsible for the chair's creation.
Goddard and Townsend Desk – $11.4M
If you wanted to invest in a real statement piece, then the Goddard and Townsend secretary desk might appeal. The desk was made in the 1760s and was sold at a Christie's auction in 1989 for $11,480,675.
This is said to be the highest price ever paid for a piece of American furniture. Only 9 of the desks were ever made, which might be one of the reasons for the high auction price.
The Harrington Commode – $5M
The superb 18th century English furniture craftsman, Thomas Chippendale, is always popular at auction. As the centuries progress, his work is more difficult to source and any piece which comes up at auction it's sure to be snapped up.
Sotheby's sold this Harrington Commode in 2010 at an impressive £3,793,250. The marquetry and design of the Commode is exquisite so it's hardly surprising it attracted such attention.
George II Parcel Gilt Padouk Cabinet – $3.9M
Beautifully created furniture made by a respected designer can only increase in value. Christie's recorded a price of £2,729,250 for the George II Parcel Gilt Padouk Cabinet when it sold in 2008, putting it firmly in our list of most expensive furniture sold at auction.
At the time of the sale, Christie's Head of furniture, Henry House, said "the final price demonstrates true demand in the market for items of real quality."
The Tufft Table – $4.6M
Carved by hand in 1700, The Tufft Table was named after its creator Thomas Tufft. It narrows at the end and features a range of details and decorations. Custom made for Richard Edwards of Lumberton, New Jersey this ROCOCO style table has pierced fretwork along with a detailed ball and claw feet. It earned an extravagant price of US$ 4.6 million at an auction in Philadelphia.
Oak Table, Peder Moos – $1.2M
A beautiful oak dining table by late Danish furniture designer, Peder Moos, broke the world auction record for a piece of Nordic design in 2015 — selling at a Phillips auction for around S$1.2million.
The one-off dining table was designed in 1952 for Villa Aubertin in Nakskov, Denmark, and features thin curved legs supported by wing-shaped braces.
Lockheed Lounge, Marc Newson – $4.4M
Marc Newson's Lockheed Lounge has been described as both sleek and flamboyant with references to futurism with its unique shape that makes it look sensual and provocative. This was what landed it a starring role in Madonna's 1993 Rain video.
The Lockheed Lounge has been featured in the permanent collections of major museums including the Vitra Design Museum, Weil am Rhein, and the Powerhouse Museum, as well as several private.
Givenchy Royal Hanover German Chandelier, William Kent $12.5M
Sold at more than S$12.5 million at a Christie's auction, the Givenchy Royal Hanover German chandelier by Balthasar Friedrich Behrens is the most expensive chandelier to have ever gone under the hammer.
The chandelier is crafted with acanthus fixtures and motifs of horses, lions and flowers, was was originally made for George II by legendary architect William Kent.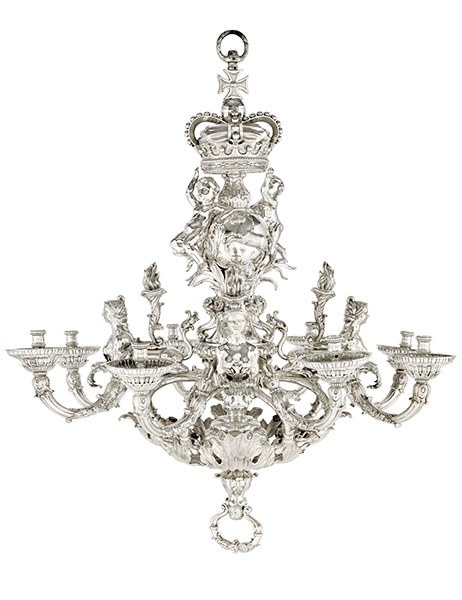 Unique Cabinet by Jean-Michel Frank – $3.6M
Jean-Michel Frank is a rare genius who could combine flamboyant Art Deco with absolute minimalism. His choice of material was also unconventional. Gypsum is a mineral that comes to life by absorbing salt water, which results in a flaky, crystalline appearance with a chalky, neutral colour. It becomes plaster when it's demineralized. However in this design, it looks like a material between mother of pearl and ivory. This cabinet is the only piece of gypsum furniture known – an enthralling example of design simplicity and minimalist chic, in line with Frank's ambition to produce "luxury from nothing." It stands as an early example of the theory "Less is more" and for an exciting period in art history when designers were experimenting both with new forms and materials. This cabinet by Frank also stands for a nostalgic adhesion to the glamour of the old world, in 1935 when industrial materials and extreme modernism was taking over the design scene, either with cold tubular steel or warm plywood, but always extreme functionalism and humanism. Perhaps Frank wanted to resist that. And always appreciating luxury, the Paris crowd loved it when it was first exhibited to the public in 1936, at the Galerie Art et Industrie, Formes d'aujourd'hui Exhibition.