Toys don't typically cost a fortune, but over time through the power of nostalgia these children's playthings can increase in value. In fact, some of the rarest and most sought after toys can sell for thousands, and in some very special cases, millions. Read on to find out some of the most expensive toys, from boats to board games, ever sold at auction.
Original 1959 Barbie: $3,669 (£2.9k)
As one of the most popular and glamorous children's toys throughout the latter half of the 20th century, you can understand why Barbie is so collectable. The original models from the first production line in 1959 came with either blonde or brunette hair in a distinctive black and white bathing suit. This example (pictured) may have sold at Christie's for $3,669 (£2.9k), but some have managed to raise as much as $27,450 (£21.1k) at auction.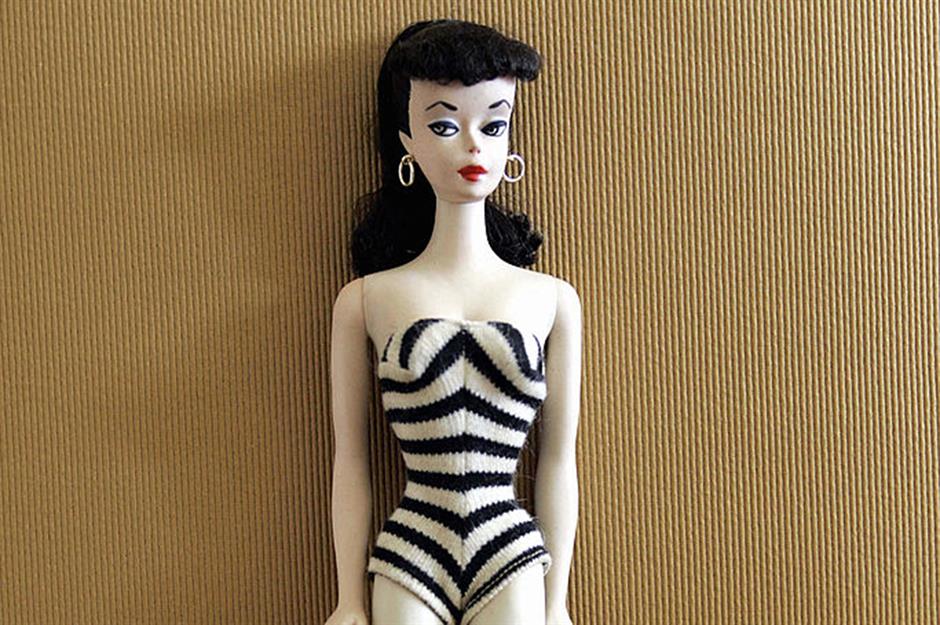 Hungarian Boba Fett: $15,000 (£11k)
Star Wars toys have always commanded respectable prices at auction, provided they're in good condition, rare, or best-case scenario pristinely kept in their box. Given the films' cult following, completists will always look for the weird and wonderful to supplement their collection. This Hungarian version of bounty hunter Boba Fett from 1989 definitely fits this criteria, and sold for $15,000 (£11k) in 2015.
Lithographed tinplate battleship: $16,250 (£12k)
This elaborately decorated Japanese battleship was made in 1905 to celebrate the country's victory in the Russo-Japanese war. With hand-painted flowers and US flags decorating from the stern to bow, it's a good example of the level of craftsmanship that went into producing it. For such a special item, it's not surprising that it sold for $16,250 (£12k) at auction.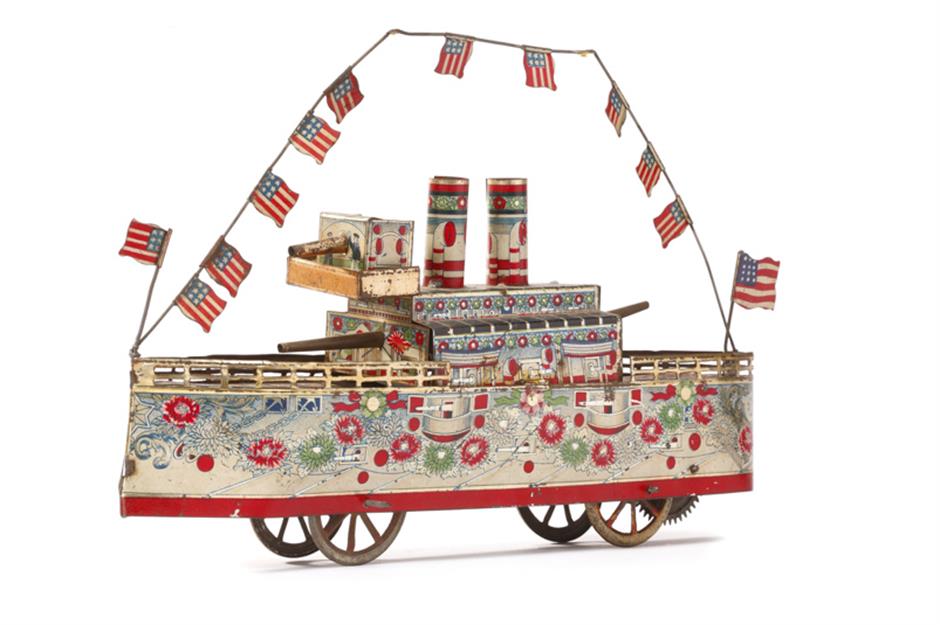 Bing c/w tinplate four-seat Tourer: $17,719 (£13.5k)
Bing were a tin toy manufacturer that began in in the early 1860s and were based in Nuremberg, Germany. Its prowess really began in earnest in 1895, but stalled because of the Wall Street Crash in 1929. Also known for model railways, ships and trams, vehicles such as this four-seat Tourer are classic examples that are always sought after at auction. Perhaps the only factor that stopped it achieving a higher price was a faulty clockwork mechanism.
Sack of Troy: $21,250 (£16,311)
This impressive display of one of history's key battles shows the tinplated wall of Troy and Trojan horse to the right of a slew of Heyde figures comprised of the Greek and Trojan forces. Dated from between 1920-1930, the toy itself has become a historical item in its own right, and it would be a brave parent who would let their child play with this antique. Especially when it cost $21,250 (£16,311).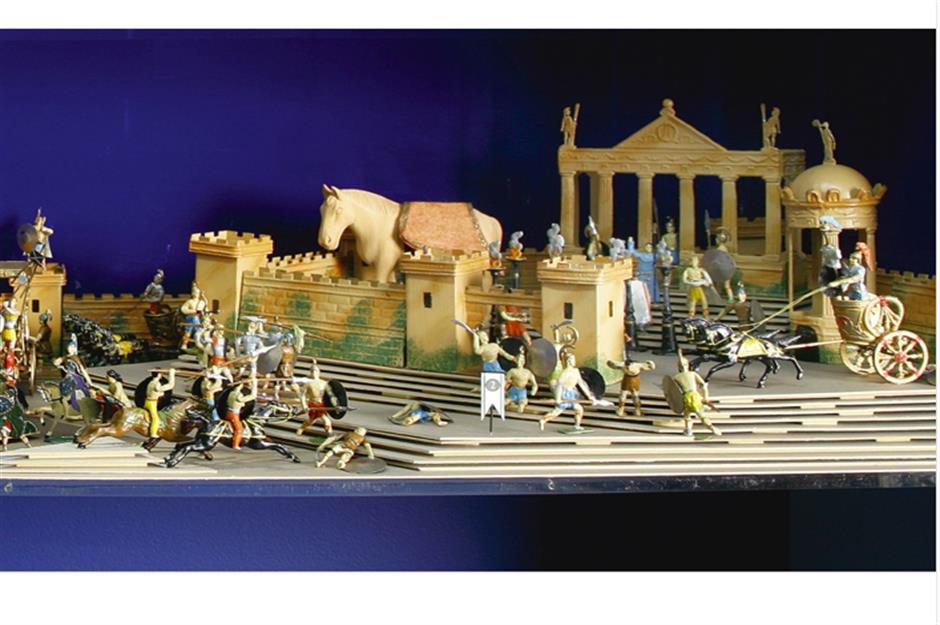 Star Wars Luke Skywalker with double-telescoping lightsaber: $25,000 (£19k)
Another Star Wars item bringing in the big bucks, this Luke Skywalker figurine was sold as part of the famed 'Nigo' lot in 2015, a collection of items curated and sold by Nigo, a Japanese designer and the founder of the Bathing Ape clothing line. The toy even comes with a rare two-piece double telescoping lightsaber action. What bolstered its value was its great condition and the fact there were only 20 confirmed examples.
Dinky WE Boyce Delivery Van: $25,454 (£19k)
Born out of the same makers of Meccano, Dinky toys are synonymous with auction houses and respectable prices around the world. This pre-war delivery van was sold at Vectis auctions in 1994 for more than $25,454 (£19k) in excellent to near mint condition. Over 10 years later another Dinky Van sold for a similar price at the same auction house, brining in $21,500 (17k).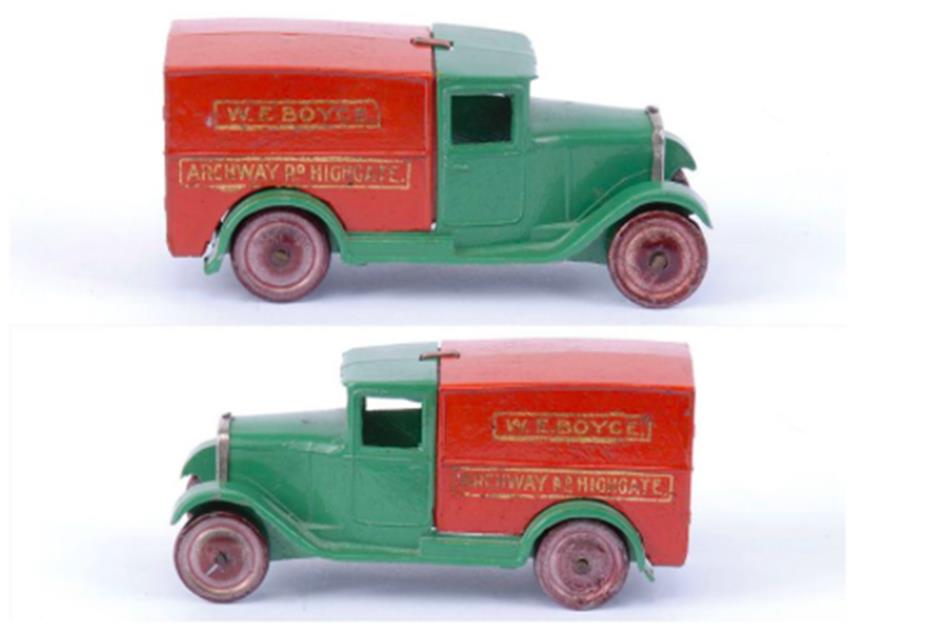 Prototype Star Wars Bib Fortuna: $47,000 (£36k)
This prototype resin figure used in the manufacture of production Star Wars figures was sent by Kenner to Roger Morrison, a tooling manager of the toys in the early 1980s. While it is a relatively unknown character, the fact it was a prototype model, meant its UK auction price soared from an expected $15.000 (£12,000) to a healthy $47,000 (£36k) from an unknown bidder in the US.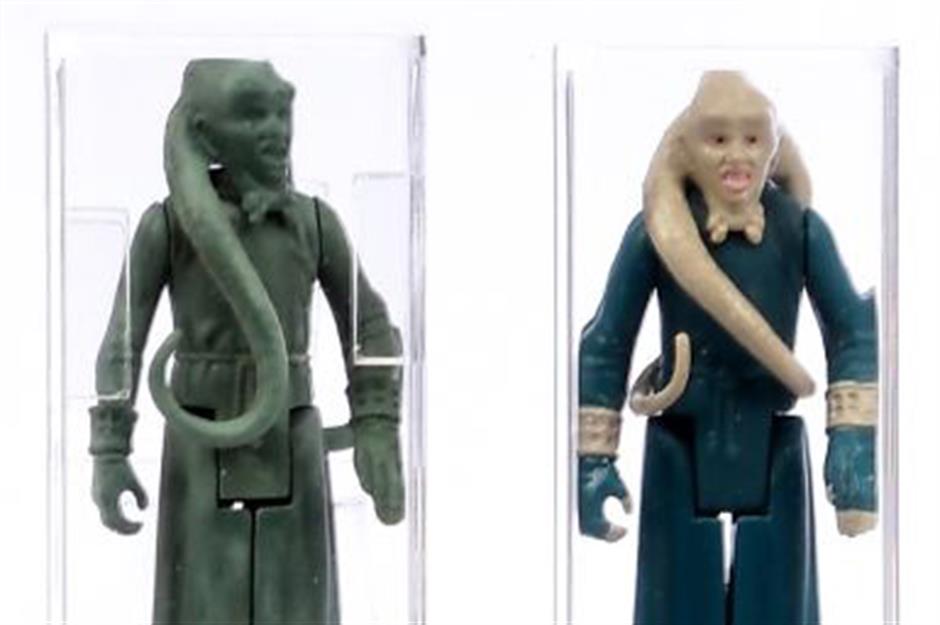 First-edition Pokemon Pikachu Illustrator card: $54,970 (£42.5k)
Who'd have thought that these cards from the cult Japanese role-playing games and cartoons would have developed into such collectible pieces? While up to 39 of them were released, only 10 of them are now graded in top condition. Their enduring popularity saw this mint example realize an awesome sum of $54,970 (£42.5k) at Heritage Auctions in 2016.
Obi-Wan Kenobi with Double-Telescoping Lightsaber: $76,000 (£58k)
The thirst for authentic Star Wars merch is never ending. The reason why this particular item was in high demand was because Kenner, the toy's producer, abandoned production of the double-telescoping lightsaber on safety grounds. Not only that, but it was one of only a few left in the box, with a hole unpunched at the top, when it sold at Hake's auctions in 2017.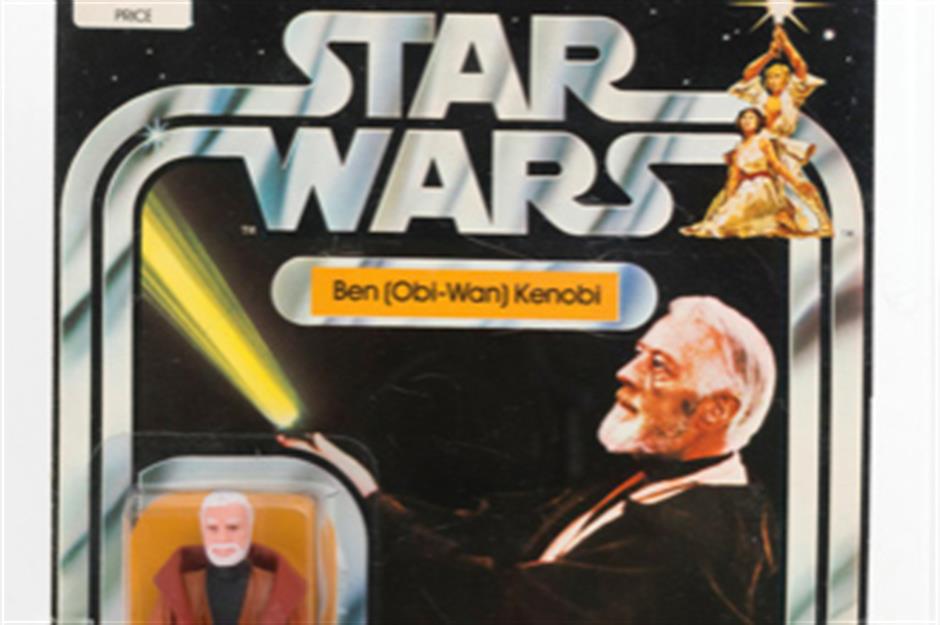 Märklin Posen Second Series Electric Battleship Germany: $116,500 (£91.3k)
While it may be more renowned for railway models these days, time was that Märklin also produced motorised boats, many of which now consistently achieve high prices at auction. This vessel, Posen, was sold for $116,500 (£91k) as part of publishing billionaire Malcolm Forbes' extensive toy collection, which raised a hefty total of $2.4 million (£1.4m) in 2010.