When it comes to unbelievable auction stories, 2019 proved that rare and valuable treasures can turn up where you least expect them.
From garage sales to thrift store shelves, forgotten attics and farmer's fields, these nine tales show that it always pays to keep your eyes open for that collector's holy grail…
The 1000-year-old garage sale statue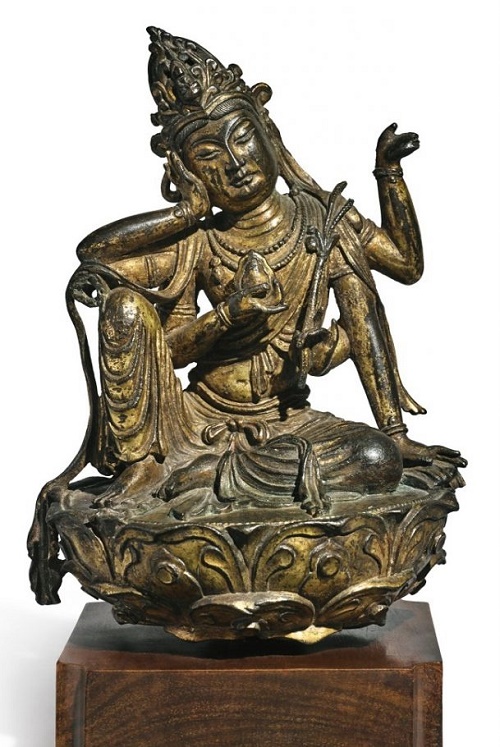 This ancient Chinese bronze statue first made headlines when it appeared on an episode of Antiques Roadshow.
The owner had originally picked it up at a Missouri garage sale for just $100, from the estate of a local collector – although she almost missed the purchase of a lifetime.
"There was a local person who was really a colourful character in Kirkwood, so I wanted to get to his garage sale…I almost didn't have time to acquire it as I was having 15 people for lunch," she told the PBS show back in 2018.
"I rushed out, and the dealers had been there for two days before so I thought that everything good would be gone, but when I saw this I thought it was so beautiful, I just grabbed it."
To her surprise, Roadshow expert Robert Waterhouse informed her that the statue was in fact a depiction of Chinese Buddhist deity Cintamanicakra Avalokiteshvara, and was around 1000 years old.
The quality suggested it had been made for the Imperial palace, during the reign of the Tang Dynasty or the Five Dynasties in the 10th century, and Waterhouse valued it at up to $100,000.
That valuation was stunning in itself, but what happened next was even more surprising.
In March 2019 the statue was offered for sale at Sotheby's in New York, where it sparked a seven-minute bidding war and soared to a final price of $2,060,000.
The baseball legend hidden inside a piano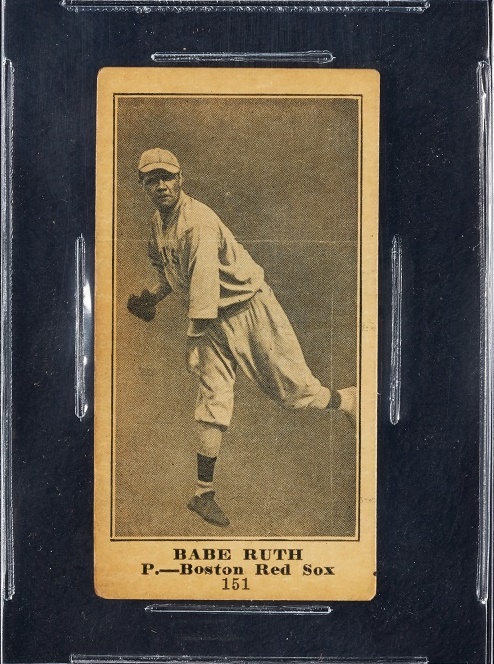 There can be few more significant baseball cards in existence than the Babe Ruth rookie card, printed in 1916 whilst he was still a young pitcher with the Boston Red Sox.
Collectors have hunted high and low for the cards over the years, but there was one place they never thought to look – inside Aunt Nora's antique piano.
Maryland woman Ellen Kelly had fond childhood memories of her aunt's piano, even though she was never allowed to play it, and when it went up for sale back in 1992 she snapped it up for $25.
When she got it home she realised one of the pedals was sticking, and when her friend came round to repair it he discovered a secret stash of 100 antique baseball cards, which appeared to have been stuck there for around 80 years.
It seemed either her father or her uncle had hidden the cards away from Nora, who was notorious for throwing out their toys, and then forgotten about them.
Kelly knew the cards had to be valuable, but she decided to sit on them for a while and stashed them away again – this time in a safety deposit box.
Finally in April 2019 she had the cards graded and placed them up for auction at Goodwin & Co., with the star lot undoubtedly the Babe Ruth rookie card.
And as a fresh-to-the-market find, complete with a unique back-story, the card almost doubled its estimate to sell for $130,000.
The Holy Grail of Harry Potter books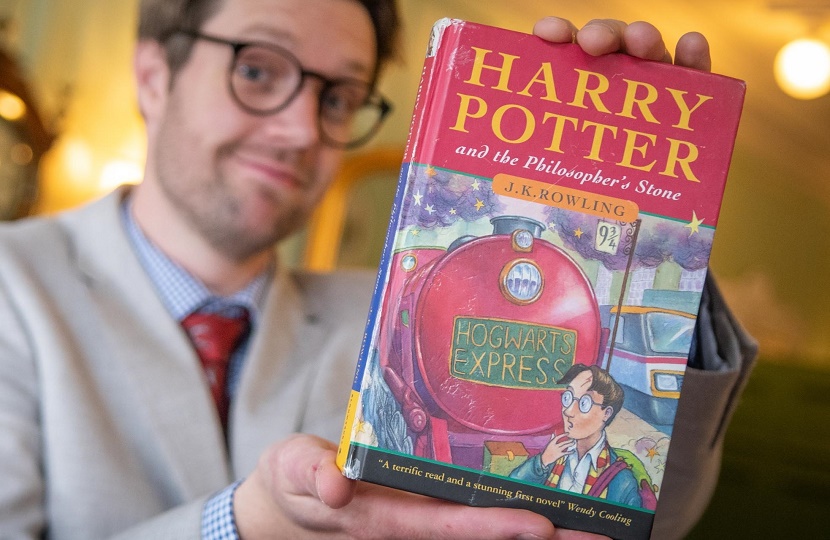 It may only be 22 years old, but Harry Potter and the Philosopher's Stone is already one of the world's most sought-after rare books.
When J.K Rowling's debut novel was released back in 1997, nobody could have foreseen that Harry Potter would become a cultural phenomenon – and spawn a franchise worth billions.
Bloomsbury printed just 500 copies of the first edition, with 200 copies sent out to bookstores and the rest sold to schools and libraries around the U.K.
One lucky consignor in the U.K managed to pick up an ex-library copy for just £1, although at the time he had no idea he was purchasing a future classic.
It was simply amongst a stack of second-hand books he bought to read on holiday, and upon his return he stashed it away in a cupboard where it remained hidden for the next 20 years.
"I found the book when I was called to a client's house near Stafford to value three boxes of books," said book expert Jim Spencer. "I was slightly caught in disbelief when I first saw it.
"There it was – the holy grail of Harry Potter books. I was so excited. Every book valuer dreams of finding one of these."
Even though it was slightly dog-eared, and still contained its original Staffordshire Library label, the rarity of the book meant a bidding war quickly ensued when it hit the block at Hanson's Auctioneers in July.
And when the hammer finally fell, that £1 investment had turned into a magical £34,200 ($41,350).
The metal detectorist who struck gold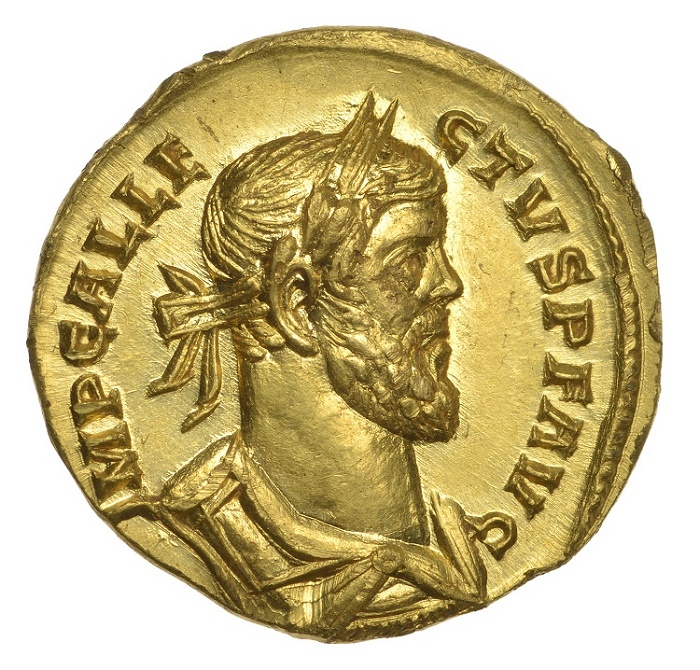 Every metal detectorist dreams of discovering a piece of history, but few are as fortunate as one British treasure hunter earlier this year.
The anonymous 30-year-old was searching in a farmer's field in Kent, near the site of an old Roman road, when he stumbled upon an ancient Roman coin buried in the mud.
However, he had no idea of its true significance until he cleaned it up and took it to experts at the British Museum.
They confirmed it was a gold coin known as an Aureus, bearing the image of Allectus – a politician who seized control of Britain and tried to liberate it from the Roman Empire.
He ruled for just three years, from AD 293-296, until Emperor Constantinus I sent troops to kill Allectus and reclaim the nation for himself.
Due to the brief nature of Allectus' reign, few coins were made featuring his likeness, and the gold Aureus was one of only 24 examples ever discovered.
The coin eventually sold at London auction house Dix Noonan Webb for £552,000 ($701,730), more than five times its high estimate, setting a record as the most valuable coin in the company's history.
"It is my greatest find by miles," said the detectorist after the sale in June 2019. "We expected it to sell for a little over estimate, but not five times the estimate! We are sharing the money with the farmer, who is also thrilled!"